LAMINATED PLASTERBOARD GASKET PASTES AND ADHESIVES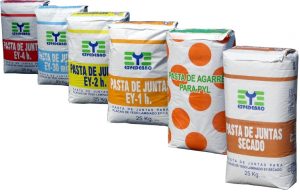 LAMINATED PLASTERBOARD GASKET PASTES
Indicated for the filling and finishing of joints and spot repairs such as the covering of screw heads in laminated plasterboard.
JOINT PASTES
These products harden via a physical-chemical process and are used exclusively for the treatments of hand-finished joints to obtain a paint-ready finish.
AIR-DRYING PASTES
These products basically harden by air drying, are available in powder or ready-to-use forms, and are suitable for both manual and mechanical application.
GRIP PASTES
Plaster-based adhesives that have thermal and acoustic insulation properties for use with laminated plasterboard and minor repairs or the filling of small holes.