PLASTER ADHESIVE 10Kg. / 25Kg.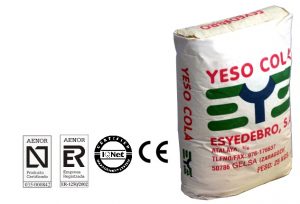 Plaster-based adhesive (UNE-EN 12860)
DESCRIPTION
YESO COLA is a plaster-based product composed principally of calcium sulphate in different phases of dehydration. Contains additives to facilitate its workability by regulating water retention, adhesion, setting and plasticity (additives comprise less than 1% of the product).
USAGE
For use with plaster, ceramic and concrete partitions. Fixing of plaster-based decorative elements such as mouldings, panels, plates etc. Covers cracks and other imperfections, preparation of walls before painting, fixing of plastic or wooden dowels, tiling, etc.
HOW TO USE
Prepare the surface ensuring it is free of dust and loose particles, rough spots, oil stains and other residues that may reduce its adhesion.
APPLICATION
Using a clean container, mix equal parts clean water to the powder, allow it to moisten, then knead the mixture manually. Leave the paste for five minutes and stir briefly. It will now be ready for use.
DECORATION AND FINISHING
– Ensure to follow any guidelines indicated by the paint manufacturer.
– It is advisable to apply a primer prior to painting in order to regulate surface absorption.
– Ensure the surface is dry and free of dust particles before applying.
APPLICATION CONDITIONS
– Recommended thickness 1mm – 5mm
– The temperature during application should not be lower than 5ºC or above 40ºC.
– The relative humidity should not exceed 70%.
– It is not advisable to apply the product during wet weather as this may have adverse effects.
TECHNICAL CHARACTERISTICS
Grain size ≥0.2% size 0.2mm.
Plaster/water ratio 75%-80% plaster / 20%-25% water
Working time 75-90 minutes
Purity index ≥92%
pH ≥6.5
PACKAGING
– Supplied in bags of 10kg/25kg of two sheets of paper and PE sheeting, in wooden pallets of 1200kg.
– It is essential to protect the product from moisture to avoid adverse effects.
ESYEDEBRO S.L. advises against the use of its products for applications other than those for which they have been especially designed.