MECAGYPS® N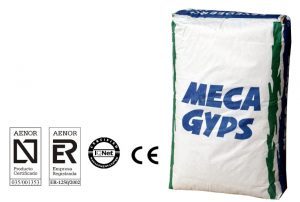 B1 CONSTRUCTION PLASTER (UNE-EN 13279-1)
MECAGYPS® N is single-layer mechanical projection plaster indicated for interior trim of walls and ceilings. Due to its high surface hardness it is suitable for corridors, schools, hospitals, etc.
HOW TO USE
– Prepare the surface ensuring it is free of dust and loose particles, rough spots, oil stains and other residues that may reduce its adhesion.
– It is recommended to moisten the application surface with water or apply a regulating primer if the absorption of the surface is very high.
– In the case that the support is too smooth, a product that favours adhesion should be applied.
APPLICATION
– Project regulating the flow of water to obtain a consistent and workable paste.
– Smooth using an aluminium ruler to obtain a flat surface.
– Small imperfections may be cut off using a steel blade.
– Apply MAX FINE for the perfect finish.
APPLICATION CONDITIONS
– The recommended thickness of the coat is between 1cm-2cm.
– The temperature during application should not be lower than 5ºC or above 40ºC.
– The relative humidity should not exceed 70%.
– It is not advisable to apply the product during wet weather as this may have adverse effects.
DECORATING AND FINISHING
– This product must dry naturally. it is not advisable to dry the plaster artificially using air cannons or other devices.
– It is advisable to apply a primer before painting to regulate surface absorption.
– Ensure to follow any guidelines indicated by the paint manufacturer.
STORAGE
– Store the product in a dry environment where it is not in contact with the ground.
– Once a package has been opened it is recommended that it be sealed.
TECHNICAL CHARACTERISTICS
Purity Index >70%
Plaster/water ratio 55% plaster / 45% water
Setting time (start) 120-150 minutes
Setting time (end)** 270-360 minutes
Average surface hardness >70 Shore C units
Fire class A1
Compressive strength ≥2N/mm2
Flexural strength ≥1N/mm2
Adhesion ≥0.1N/mm2
*Usage times may vary according to factors such as: water/plaster ratio, temperature, water pH, support type, etc.
** Setting time in traditional support (ceramic brick and concrete) from the projected.
*** Thermal conductivity coefficient 0.26 λ(W/mK)
PACKAGING
Supplied in 20kg/25kg bags in pallets of 48/64 bags and in bulk.
ESYEDEBRO S.L. advises against the use of its products for applications other than those for which they have been especially designed.