MAGNUN GASKET PASTE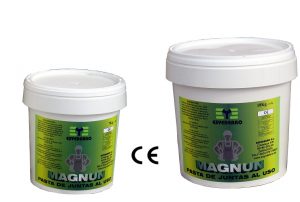 MANUFACTURED ACCORDING TO UNE-EN 13963
(MATERIAL FOR LAMINATED PLASTERBOARD GASKETS)
MAGNUN GASKET PASTE is ready-to-use air drying paste for laminated plasterboard joints.
USAGE
MAGNUN PASTE is particularly suitable for filling and finishing joints of laminated plasterboard with micro-perforated paper, ideal for interior wall renovation prior to painting.
Easy to use with a high quality finish and excellent sanding.
APPLICATION
– The product is ready for use. Stirring is recommended before application.
– Apply manually with a spatula or trowel. Apply an initial layer of paste on the surface to be treated, applying pressure to the paste to ensure it has penetrated into the board, apply the paper layer, and reapply according to the type of finish desired: Q1, Q2 or Q3.
– Ensure each layer is dry before applying the next.
TECHNICAL CHARACTERISTICS
Adhesion (MPa) >0.2
Drying time 12-48 hours approx.
Working ambient temperature 5oC – 35oC
Working ambient humidity ≤85%
Approximate yields:
Q1 0.4kg/m2
Q2 0.5kg/m2
Q3 0.6kg/m2
pH 9 approx.
Fire class A2-s1-d0
Classification (EN-13963) 3A
PACKAGING
Supplied in 7kg and 18kg tubs (±5%)
STORAGE
– Store the product in a dry environment out of direct sunlight and not in contact with the ground.
– The product should be used within nine months from the date of manufacture.
– The use of gloves and mask is recommended when using the product.