EYE GRIP PASTE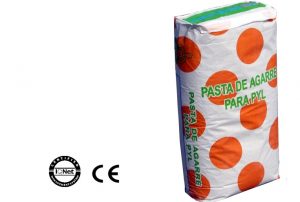 MANUFACTURED ACCORDING TO STANDARD UNE-EN 14496
COMPOSITION
EYE GRIP PASTE is composed of calcium sulphate in different stages of dehydration and additives that provide good workability and adhesion.
TECHNICAL CHARACTERISTICS
Appearance White powder
Plaster/water ratio 50%-55% plaster / 45%-50% water
Working time 60 mins approx.
Fire class A1
Adhesion (MPa) ≥0.1N/mm2
Working ambient temperature >5oc
pH >6
USAGE
EYE GRIP PASTE is particularly suitable for bonding plasterboard indoors on vertical walls of brick, concrete, concrete blocks or similar materials.
PACKAGING
Supplied in bags of 20kg (±5%) of two sheets of paper and PE sheeting, in pallets of 64 bags (1280kg).
STORAGE
– Store the product in a dry environment out of direct sunlight and not in contact with the ground.
– Once a package has been opened it is recommended that it be sealed and used before a new sack is opened.
– The product should be used within nine months from the date of manufacture, and up to twelve months if stored correctly.