EY-SECADO GASKET PASTE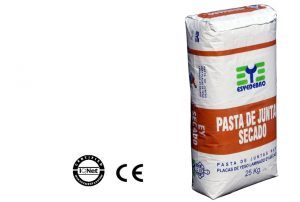 MANUFACTURED ACCORDING TO UNE-EN 13963
(MATERIAL FOR LAMINATED PLASTERBOARD GASKETS)
COMPOSITION
EY-SECADO GASKET PASTE is a semi-hydrated calcium sulphate-based powder material with calcium carbonate and other additives.
USAGE
Particularly suitable for filling and finishing joints of laminated plasterboard with micro-perforated paper.
PREPARATION
– Prepare the plasterboard to be treated by ensuring it is clean, ensuring a good adhesion.
– Using a clean container, mix equal parts clean water to the powder, allow it to moisten, then knead the mixture preferably using a mechanical whisk. Leave the paste for five minutes and stir briefly. It will now be ready for use.
– Note: Excessive shaking of the material during preparation can speed up the setting process.
APPLICATION
Apply manually with a spatula or trowel. Apply an initial layer of paste on the surface to be treated, applying pressure to the paste to ensure it has penetrated into the board, apply the paper layer, then repeat.
CHARACTERISTICS
Appearance White powder
Drying time 24 hours approx.
Working ambient temperature 5oC – 35oC
Yield 0.3-0.4kg/m2
Plaster/water ratio 50% plaster / 50% water
Fire class A2-s1-d0
PACKAGING
Supplied in bags of 20kg (±5%) pallets of 48 bags.
STORAGE
– Store the product in a dry environment out of direct sunlight and not in contact with the ground.
– Once a package has been opened it is recommended that it be sealed and used before a new sack is opened.
– The product should be used within nine months from the date of manufacture, and up to twelve months if stored correctly.