YESO FINO / FINE COAT APPLICATION PLASTER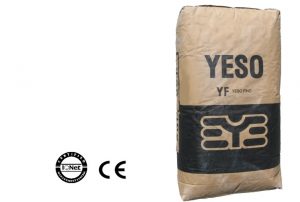 C6 FINE COAT APPLICATION PLASTER (UNE-EN 13279-1)
Manual application plaster indicated for interior finishing, trimming and whitening over coarse plaster or cement rendering.
IMPORTANT: For proper adhesion, the finishing layer must be applied before the underlying layer one has completely set.
APPLICATION
– Using a clean container, mix equal parts clean water to the powder, allow it to moisten, then knead the mixture manually. Leave the paste for five minutes and stir briefly. It will now be ready for use.
– Apply manually with a spatula or trowel in a homogeneous layer.
APPLICATION CONDITIONS
– The temperature during application should not be lower than 5ºC or above 40ºC.
– The relative humidity should not exceed 70%.
– It is not advisable to apply the product during wet weather as this may have adverse effects.
DECORATING AND FINISHING
– This product must dry naturally. it is not advisable to dry the plaster artificially using air cannons or other devices.
– It is advisable to apply a primer before painting to regulate surface absorption.
– Ensure to follow any guidelines indicated by the paint manufacturer.
STORAGE
– Store the product in a dry environment where it is not in contact with the ground.
– Once a package has been opened it is recommended that it be sealed and used before a new sack is opened.
TECHNICAL CHARACTERISTICS
Purity Index >80%
Plaster/water ratio 100%???
Working time 10-15 mins
0.8 mm sieve retention 0
0.2 mm sieve retention ≤ 5%
Compressive strength 2.5-3.0N/mm2
Flexural strength 3N/mm2
Surface hardness >70 Shore C units
Fire class A1
*Usage times may vary according to factors such as: water/plaster ratio, temperature, water pH, support type, etc.
PACKAGING
Supplied in 17kg bags in pallets of 64 bags.
ESYEDEBRO S.L. advises against the use of its products for applications other than those for which they have been especially designed.